Barcelona, my most favorite city in Europe!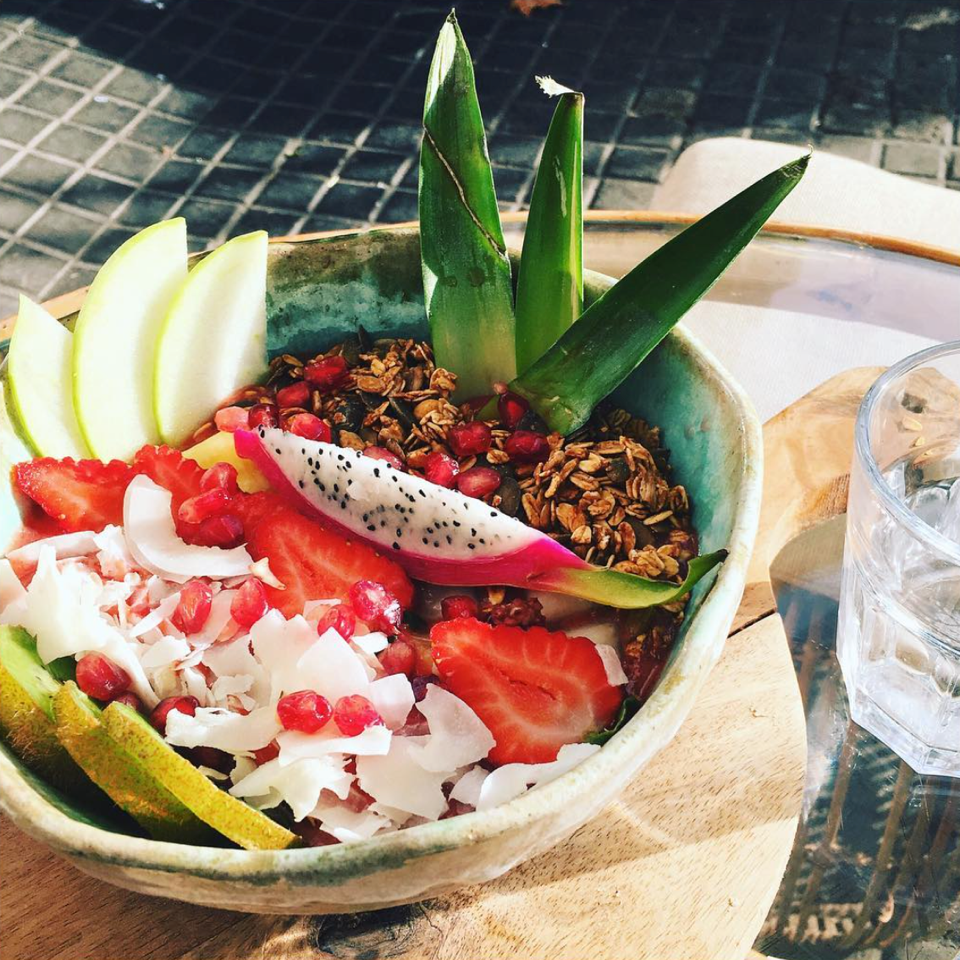 Barcelona, my most favorite city in Europe. I call it the European Los Angeles, with the beach, the mountains and of course the palm trees. Two months I was allowed to live here and in this day and age I have a lot of fun find places I'd like to share with you!
BRUNCH AND CAKE
The best hotspot for lunch, brunch or Breakfast. They have a few locations in the city, but my favorite is the one "by the sea." The dishes are not only healthy and super tasty, but they also serve it on a super original way. Take a look at their instagram to see what I Mean! @brunchandcake
TIP 1: Share! Most dishes are really big.
TIP 2: Take the 'super sandwich', it is served with a syringe full of avocado!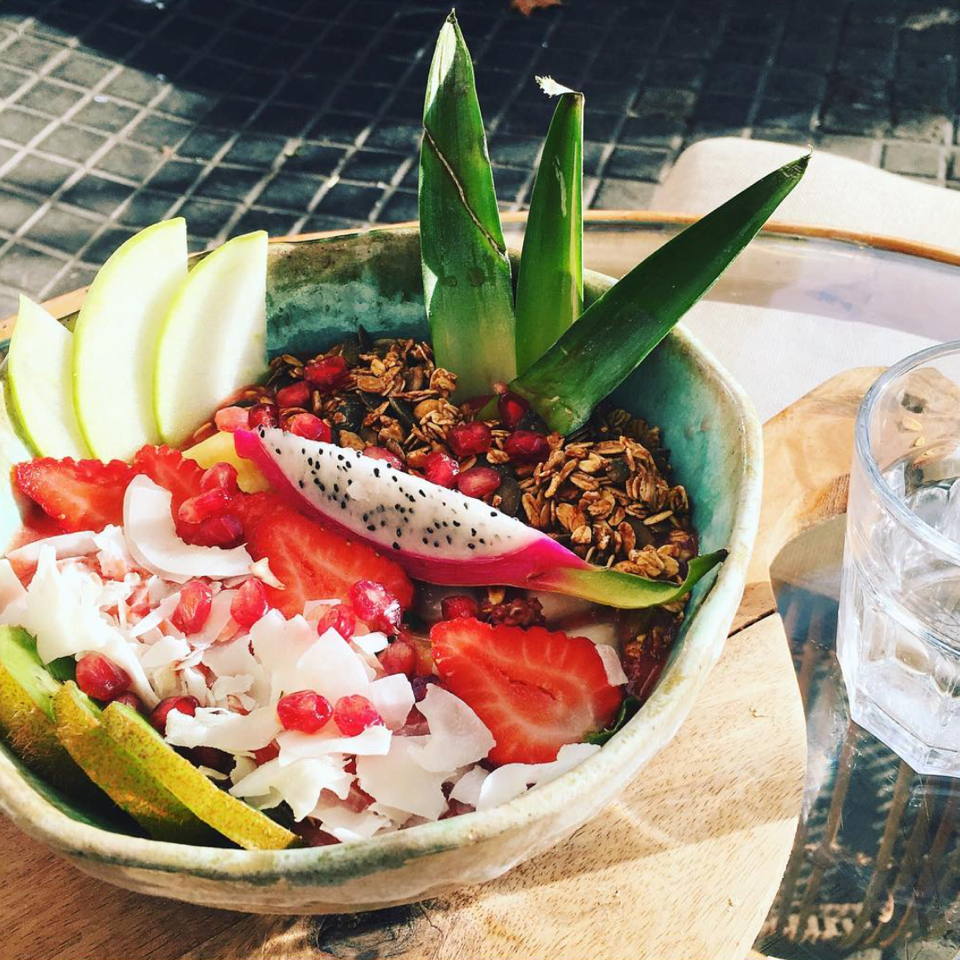 FLAX AND KALE
The first place I go as soon as I take a step in Barcelona, Flax and Kale. Stylish and trendy, that place for every blogger, model, influencer and other well-known stars you can spot here. The quality of the food is super, everything is healthy and even 80% of the dishes are vegetable! They also serve cold pressed juices, very much recommended!
TIP 1: They have a secret rooftop, this one is really the perfect hideout for a sunny day. (ask for this if you are going to book)
TIP 2: Take a look at their instagram @flaxandkale
CREPS ALBORN
This bar is really the place to be, I can sincerely say that I think this is the nicest bar in town. I can think of 10 reasons why. The music here is perfect, good atmosphere, good food and delicious cocktails. Also, the bartenders are super nice and also very handsome. As you can see out the name, this bar sits in the trendy neighborhood 'El born' and serve crêpes. What else do you want?!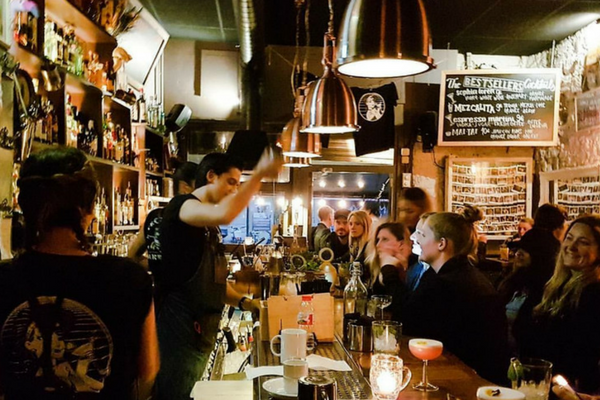 PACO MERALGO
When my mother came to see me, she wanted to take me to her favorite restaurant, Paco Meralgo. They server typical Spanish tapas here that you can point to the bar or just on the menu.
TIP: book in advance and ask for the left side of the restaurant
BUNQUERS DEL CARMEL
In this place you have a great 360 degree view all over the city. These used to be bunkers, but now it's a place to chill with the best view you can get from Barcelona. It's open 24/7 and you don't have to pay anything which is of course very nice. If you go in the evening, all barcelona lights can see, but it's also super nice to go during the day. (yes, I've been there about five times)
TIP: Wear sneakers, you have to climb up the mountain to get there.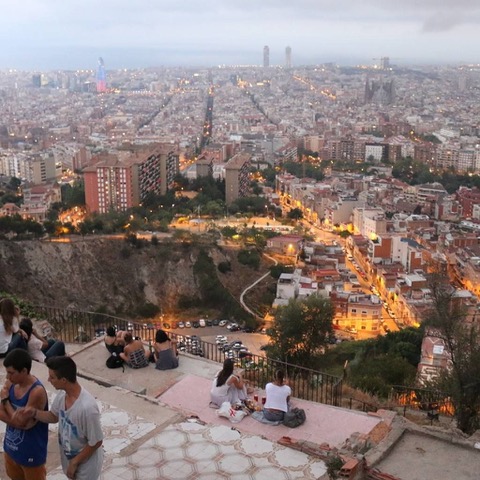 PLAYA DEL GARRAF
One of my first shoots in Barcelona was on this beautiful beach in Garraf, just outside the city. This beach is very cute and it seems and feels like you are in Greece with the little cottages. It's perfect for if you want to get away from the crowds on barceloneta beach.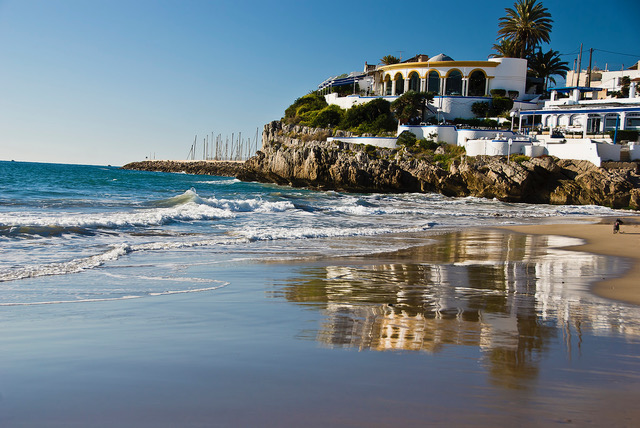 Maka MAKA BEACH BURGER CAFE
This burger café is next to the Barceloneta beach and the owners are Dutch! The name 'makamaka' means 'intimate friend' in Hawaiian. I ate here at night and chose the 'Greenzilla' vegan burger, he was Delicious! They use very funny names for the bugers, such as 'topless' (plain burger) or 'hot mama' (spicy). They are known for their good citizens, but they also serve salads and have some really tasty cocktails. During winter the terrace is heated, so you can go out all year round Are.
TIP: You can fork wooden and stick knives with your name on the wall, how much fun!
Love,
Demi